FORT MYERS, Fla. — A man was arrested Wednesday afternoon after Lee County Sheriff (LCSO) deputies said he shot another man.
It happened in a Tice neighborhood of Fort Myers on Hamilton Drive—and neighbors said they are still stunned.
One man is facing aggravated battery charges but said he was being attacked before the shooting.
"I heard gunshots then I heard sirens," said a neighbor. "I raised three kids living here, and they would go up and down the road and I wouldn't worry about them. Now I don't want to go to the mailbox, because you know if I would have gone to the mailbox, I would have been in the middle because the car was right there."
Two gunshots is what she heard on Wednesday at about 2:30 pm.
Like many people in the neighborhood, she was so frighten that she didn't want to reveal her identity.
One neighbor said when he went out to tend to his chickens after the shooting and saw a person in a ditch and the suspect saying "I can't believe I killed him"—a detail LCSO also stated in it's report.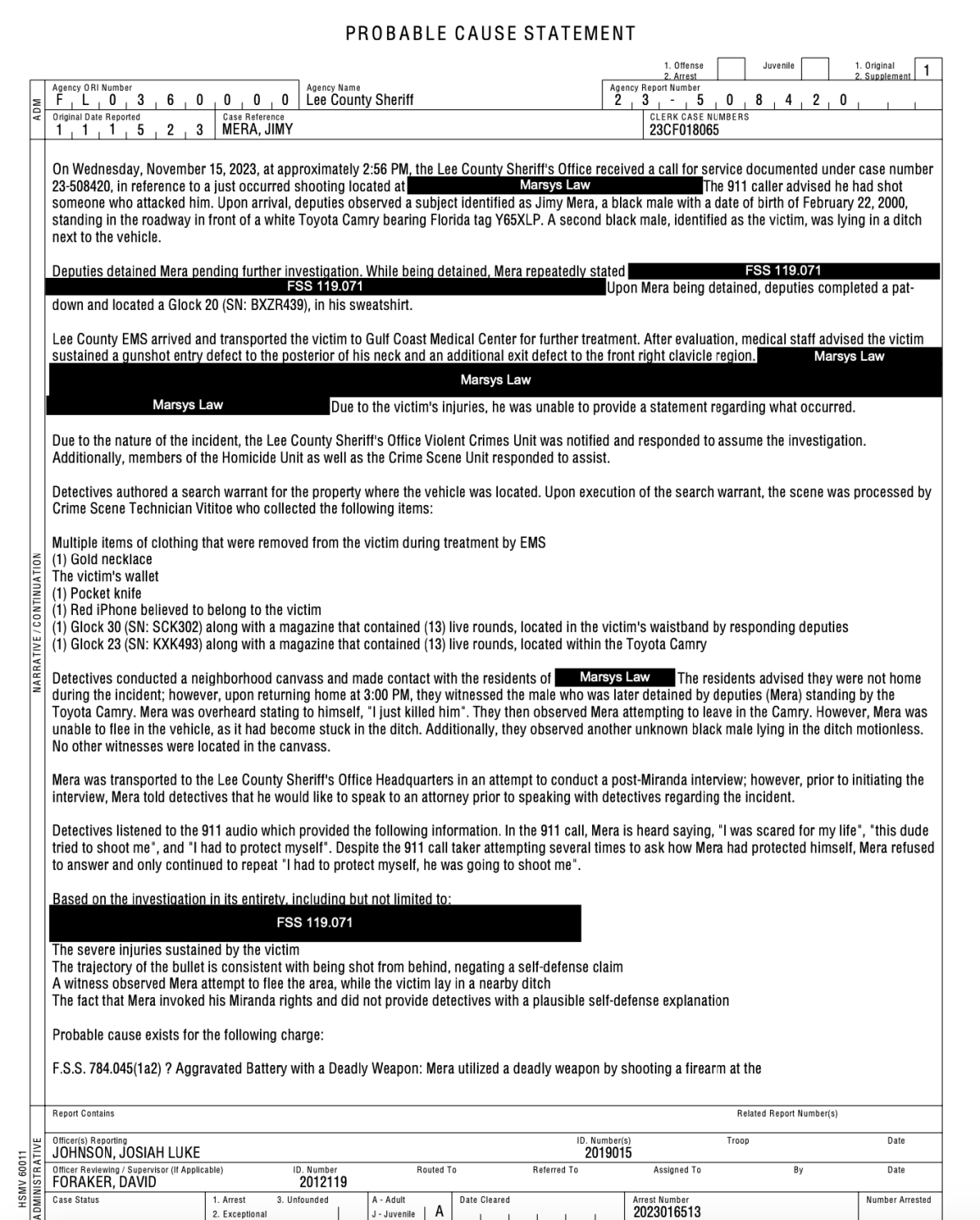 Now 23-year-old Jimy Mera is charged with aggravated battery with a deadly weapon.
Mera is the brother of Wisner Desmaret, the convicted killer of Fort Myers Police Officer Adam Jobbers-Miller in 2018.
Deputies said Mera called 9-11 after the shooting, claiming the other person attacked him.
However detectives noted the wound was in the back of the neck, negating a self-defense claim.
LCSO added a witness observed Mera trying to get away while the victim was lying in a nearby ditch.
But it's what investigators found on the injured person that could take this in a different direction.
According to the report the following was found on the person injured:

Pocket knife
Glock 30 along with a magazine that contained (13) live rounds in his waistband
Glock 23 along with a magazine that contained (13) live rounds located by a Toyota Camry
Fox 4's Briana Brownleeasked LCSO if this was self defense, a set up, and if the person injured will be facing charges.
LCSO said the investigation is still very active as the continue to gather evidence and interviews.
Mera's family said he's still in custody with a $100,000 bond.