FORT MYERS BEACH, Fla. — A heartbreaking reality for the loved ones of a Fort Myers Beach woman whose remains were found on Fort Myers Beach Tuesday.
82-year-old Ilonka Knes had been missing since Hurricane Ian.
"I kept checking with everybody I knew on the beach, and no one heard anything about her. I just couldn't stand to let her just be gone," cried Marti Garder, a dear friend of Knes. "I'm just so glad they found her, she gets to be with her husband now," Gardner said.
For months Gardner waited to learn what happened to her friend.
In a press conference Thursday, Lee County Sheriff Carmine Marceno announced that the remains — found not far from Ilonka's home — were hers.
"On Tuesday, remains were discovered off of Tropical Shores Way by a contracted debris removal company deep within the mangroves," Marceno said.
Ilonka's husband, Bob, was also a hurricane victim and was found months ago by search and rescue crews.
"These are not numbers, when I say the cause of death," Sheriff Marceno said. "When I say it's one, or 74, these are people's family members."
Or a friend like Marti, who knew the couple for 16 years.
"Every New Year's Eve we would have a ton of company and go down to the square and stay for the ball drop," laughed Gardner. "On the way back, we would always stop at their house at one in the morning and they would have food and drinks for us."
Neighbors told Fox 4's Briana Brownlee that the couple didn't want to evacuate for Ian. A man who lived on the street for 40 years said before others left the island, they dropped off lifejackets to the couple.
According to this LCSO report, Ilonka was wearing one when they found her body.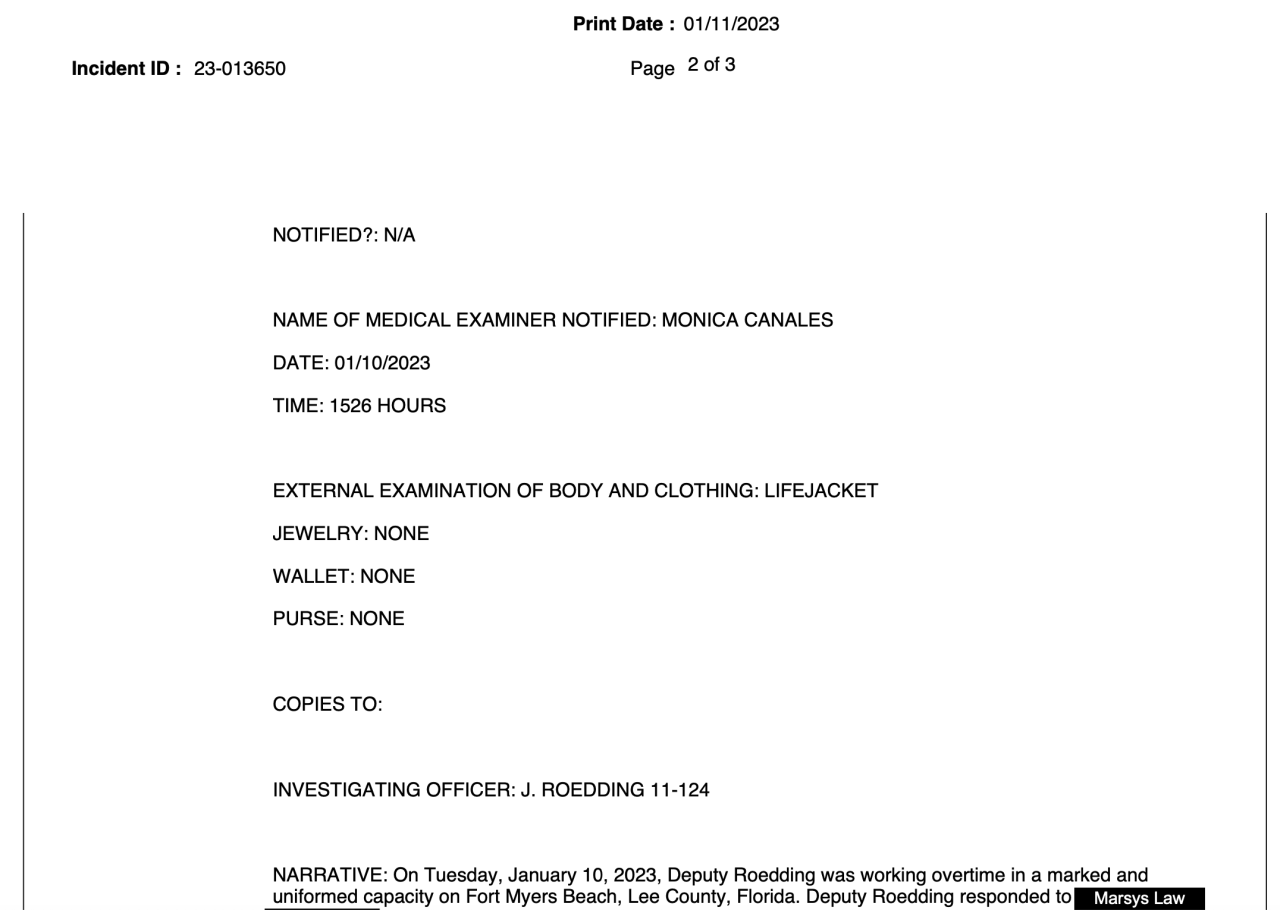 "When Charlie came through, we always just stayed because nothing bad ever happened to Fort Myers Beach. For that one we all left at the last minute," Gardner said. "So, with this one, I'm sure all of these years later, I'm sure they probably thought 'Oh we will be fine.'"
Gardner said the hardest part of all of this was knowing crews couldn't find her close friend. Now, she and the Knes' family finally have peace.
"There was like no closure for her family, so now there is, and I think they are very grateful," Gardner said.
Ilonka's death was determined an accidental drowning.
According to Gardner, the couple will be cremated, and their ashes will be released into the gulf.