CAPE CORAL, Fla. — Tuesday, the Cape Coral Police Department (CCPD) held a press conference regarding the attack that happened at the Chabad Jewish center, located on Cape Coral Parkway.
The incident happened Saturday afternoon when police and witnesses said a man who is balding, around 6'0, 200 pounds with glasses tried to break into the center.
"It's a hate crime until we can determine differently," said CCPD's Chief of Police Anthony Sizemore.
Speaking publicly for the first time since the attack, Chief Sizemore confirmed that his department is investigating the incident as a hate crime.
"I think it's getting the right attention and we do believe it was a hate crime," said Rabbi Yossi Labkowski, of the Chabad Jewish Center.
When speaking with Rabbi Yossi on Sunday he said he spoke with many in the Jewish community and other faith-based communities to be vigilant.
Now three days later and with no arrest —he is urging everyone to be cautious.
"You never know the guy might come again," said Rabbi Labkowski. "I hope they find this person soon. That would put a lot of people at ease and this person will face justice. For now, we just have to be vigilant. We understand it takes time sometimes, but we do believe the police department will find him."
The incident left many in the community questioning "why" and "how" this could happen in Cape Coral.
"We are a growing city, when you are a growing city, unfortunately sometimes these types of events do happen," said Cape Coral Mayor Gunter.
"I'm… I'm saddened and I'm outraged that it happened…surprised? I'm not," said Chief Sizemore. "We are a very large city, and a very large state to think that we are immune to things that happen on a national scale is just naive."
Chief Sizemore toldFox 4's Briana Brownleethat he is fully aware of the trends and data surrounding antisemitism nationwide.
Fox 4 pulled the numbers and based on a report from the Southern Poverty Law Center (SPLC), in 2021 there were 53 hate groups in Florida.
A report from Florida's Attorney General's Office reveals that 13.5% of hate crimes were religious based in 2021.
In 2021, 148 hate crimes were reported in the state of Florida.
Lee county reported 14, 11 from Lee County Sheriff's Office, and three from Fort Myers Police.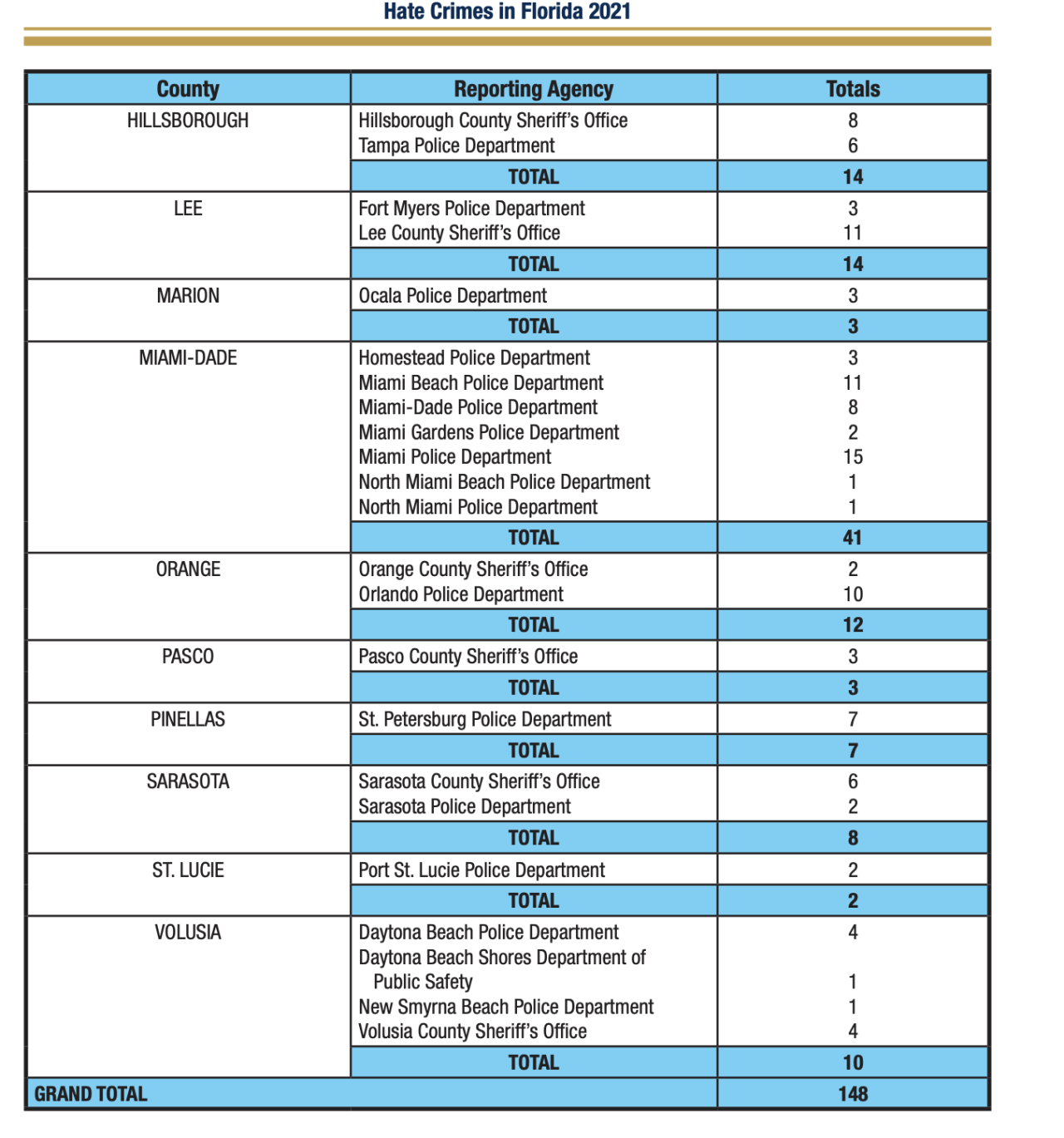 "Whether it's the Jewish family or any type of family we are a very diverse community, but first and foremost we are a community," said Mayor Gunter.
Rabbi Yossi described the community as kind, full of love, and extremely supportive. He said to combat hate is through love.
"If we express our love and good in the community, hopefully, these people will change their attitudes," Rabbi Labkowski said.