Lori Beiswenger beat up an alligator who attacked her dog. (Courtesy: Lori Beiswenger)
Courtesy: AL.com Twitter: @aldotcom
PHOTO PROVIDED BY LYNN SARLES
These two alligators got into a brawl Saturday on hole 4 of the "Blue" course at Myakka Pines Golf Club in Englewood. Players witnessed the exchanged from a higher green on nearby hole 6. The larger of the two reptiles, affectionately nicknamed "Goliath" (who has made the news before), had no trouble shooing off his smaller rival.
— at Myakka Pines Golf Club .
Courtesy: Jeremiah Johnson
Photo by: WFTS
Florida Fish and Wildlife and an Orange County Sheriffs helicopter search for a toddler early Wednesday, June 15, 2016, after the boy was dragged into the water Tuesday night by an alligator near Disney's upscale Grand Floridian Resort & Spa in Lake Buena Vista, Fla. (Red Huber/Orlando Sentinel via AP)
Photo by: Red Huber
The alligator's claw breaks the surface as it is pulled by the snake.
Photo by: Joe Capozzi/The Palm Beach Post
Courtesy: Kristi and Sean Buckley
In a photo provided by Stephen Tatum, an orange alligator is seen near a pond in Hanahan, S.C. Photos show the 4- to 5-foot-long alligator on the banks of a retention pond at the Tanner Plantation neighborhood. Jay Butfiloski with the South Carolina Department of Natural Resources says the color may come from where the animal spent the winter, perhaps in a rusty steel culvert pipe. Experts say the alligator will shed its skin and probably return to a normal shade soon. (Stephen Tatum via AP)
Photo by: Stephen Tatum
Man saves bald eagle from jaws of alligator in Manatee County pond.
Florida alligator sunning himself near a pond in Lakewood Ranch.
Photo by: WFTS
Photo by: Norma Respess
Photo by: Marion County (Fla.) Sheriff's Office Facebook page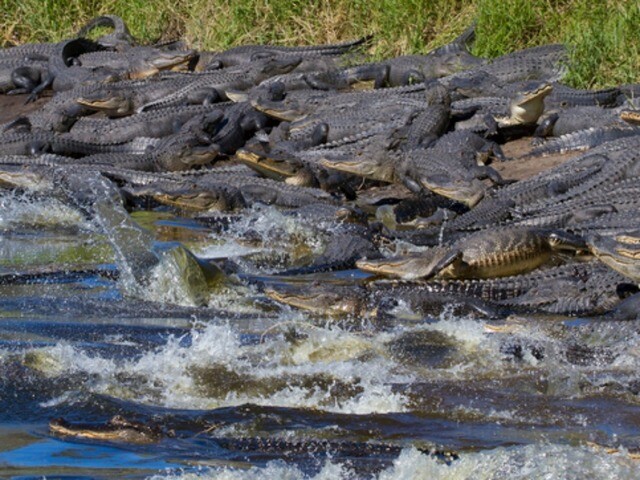 Photo by: WFTS
Photo by: John Ruel