FORT MYERS, Fla. — The annual Mothers Against Drunk Driving (MADD) "Walk Like MADD" and "MADD Dash" 5K happened Saturday morning at Fenway South at JetBlue Park in Fort Myers.
This fundraising event helps raise both awareness and funds to end drunk driving and fight drugged driving.
Fox 4 Anchor Lisa Greenberg was at the event Saturday morning. Last week, she also talked to several law enforcement officers and people personally impacted by DUI crashes to show you the importance of raising money for Mothers Against Drunk Driving.
Linda Beni lost her daughter Brittany in a DUI crash in December of 2016.
Khalia Carter was hit by a drunk driver in April of 2022.
Millicent Brant's husband died when he was hit by a drunk driver in March of 2017.
Fox 4 also talked to FHP, the Lee County Sheriff's Office, Charlotte County Sheriff's Office, and Lehigh Acres Fire Control and Rescue District about the impact drunk and drugged driving has on Southwest Florida. See all of those interviews in the clips above.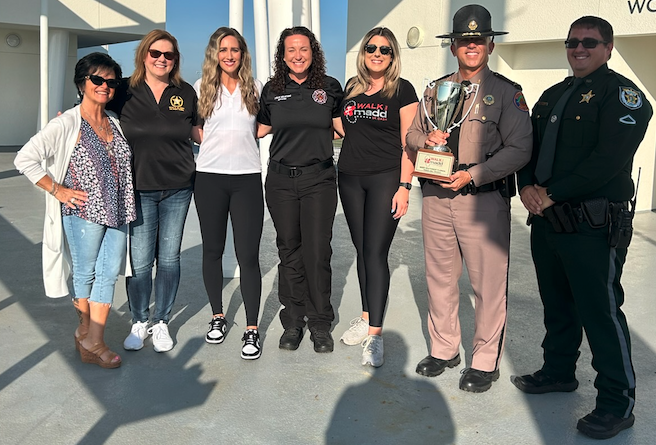 Last year, tens of thousands of people in over 90 cities across the nation participated, and together, raised over 3 million dollars to provide programs and services at no cost.
The 2023 Walk Like MADD 5K Event is MADD's signature fundraising event to help us raise both awareness and funds to eliminate drunk and drugged driving!

Rally with us SW Florida to help create a future of No More Victims! pic.twitter.com/0uCJmPArSa

— FHP SWFL (@FHPSWFL) May 10, 2023
With every step taken and each dollar raised, walkers are supporting MADD's lifesaving mission to keep our families and communities safe.

Registration: Register to run or walk Saturday, May 13th, 2023 at JetBlue Park.
Donate: Support a participant, a team, or the event! All the money raised stays in Southwest Florida to support victim services, preventative programming, and victim support.
Volunteer: Help MADD Southwest Florida host this event and even earn volunteer hours for your school!