Billboards promoting pot outside Super Bowl
EAST RUTHERFORD N.J. - Thousands of fans who enter MetLife Stadium Sunday will see five billboards around the stadium calling for the National Football League to allow players to use the drug.
The Marijuana Policy Projects reasoning behind the campaign is that marijuana isn't just safer than alcohol, its also safer than football.
Medical marijuana is currently legal in 20 states and the District of Columbia. Recreational use of the drug is only allowed in two states.
A recent decision by the Florida Supreme Court will place medical marijuana will be on the November ballot.
Sports Illustrated recently considered what the expanding acceptance of the drug means for athletes.
From S.I.:
Marijuana's gradual legalization has profound implications for the NFL and its players, many of whom rely on powerful and addictive painkillers. Advocates for the drug maintain that it can help players safely cope with pain and may even help them recover from concussions.
Under current rules, NFL players cannot use marijuana. The drug is expressly prohibited by the drug and substance abuse policy agreed to by the NFL and the NFLPA. This prohibition is not unique as the NBA and MLB and their respective players' associations also ban marijuana. The prohibition is also not surprising because federal law criminalizes marijuana (cannabis) as a Schedule 1 prohibited substance under the Controlled Substances Act.
...An NFL player who tests positive for marijuana is subject to the same penalty scheme as if he tested positive for cocaine or heroin. While a player who tests positive once for these drugs generally receives intervention, with no accompanying fine or suspension, a second-time positive test can lead to a dramatically different punishment: up to a four-game unpaid suspension -- a quarter of a season -- or longer if he's a repeat offender. Retired running back Ricky Williams received several suspensions in his NFL career for marijuana-related offenses. In 2011, Broncos linebacker Von Miller tested positive for cannabis. Last September, he received a six-game suspension, which cost him $806,162 in salary.
Below are some of the ads that will be featured around the stadium.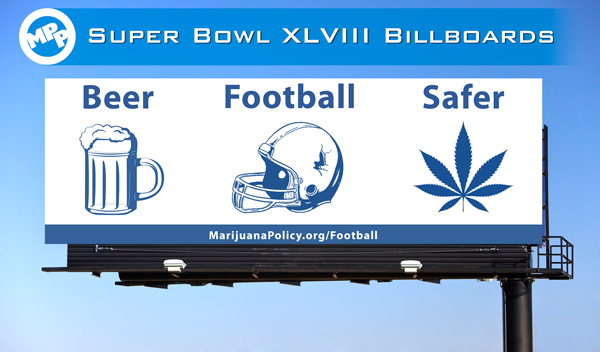 This site uses Facebook comments to make it easier for you to contribute. If you see a comment you would like to flag for spam or abuse, click the "x" in the upper right of it. By posting, you agree to our Terms of Use.